Hai Readers? Eke baru ngecek cryptomundo dan ada apdet yang mengenyangkan! Posting kali ini cuma pendek gapapa ya Readers..
Baru-baru ini ada kurang lebih 15 cadborosaurus/caddy yang difilmkan idup-idup! Film ini akan disiarin besok september di discovery channel.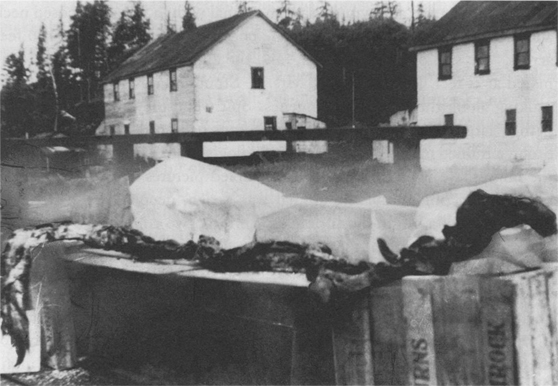 caddy di naden harbour 1937
Menurut Jason Wilton, seorang cryptozoologist, ada seorang pria di alaska yang memfilmkan 15 cadborosaurus di perairan alaska, film tersebut diambil dari atas kapal. Pasti kita mikir gini:
"Ah ngibul, mana mungkin bisa ngefilmin gituan? Harits anjing laut renang kali, itu bullshiit!"
Tapi ini beneran lo Readers, soalnya hal ini diperkuat dengan kesaksian dari John Kirk ini:
"My erstwhile colleague Loren Coleman posted about the television program that is said to contain footage of 15 Cadborosauruses. This was in response to comments about the footage made by my good friend and colleague Jason Walton.
So as to clarify things and end speculation, allow me to tell the readership about this footage. I have seen it and examined it repeatedly for three hours in May last year and am satisfied that what is in the footage is not a known animal.
The footage was obtained by a Washington state fishing boat captain (his name is known to myself and other cryptozoological investigators who have looked at the footage) who fishes in Alaskan waters in the summer. He and his two sons were on the deck of their boat when they noticed a herd of dark coloured creatures with serrated backs being chased down a channel by a pod of beluga whales. They were stunned to see these animals as they resembled no known animal they had ever seen in their years of fishing.
One of the sons had the presence of mind to go below deck and grab a video camera to film the spectacle before them. When he returned to the deck the creatures – and there are between ten to fifteen of them including juveniles – had reversed direction and were bearing back up the channel to open water with the belugas in hot pursuit. A fair amount of this action is caught on videotape.
As the creatures pull level with the boat one is able to see two larger ones protecting what looks like a juvenile from the pursuing belugas. The serrated backs are clearly visible at times. Then one the creatures turns to look in the general direction of the camera and I must say I was stunned because it looked like a living breathing version of the famed Naden Harbour carcass obtained in 1937.
I had the opportunity to examine the footage in its raw state and also the isolations, close-ups and slow motion versions for three hours straight. Prior to my examination of the contents of the footage, my colleague Dr. Paul H. Leblond, FRSC, also spent hours examining the footage. I arrived an hour after Dr. Leblond and so had no contact with him and no discussion before I saw the footage.
That evening Paul and I exchanged emails. I wanted to hear his impressions of what he had seen and I was not at all surprised that he had noticed the same features of the creatures I had noted and which had convinced me that this was an unknown creature and very like the north Pacific Megaserpent known as Cadborosaurus. In fact Paul actually described the head of the creature that looked in the direction of the camera as being very akin to the Naden Harbour carcass.
The owner of the footage is not a scientist, but he was acutely aware of the monetary value of the footage that he and his sons had obtained. Paul and I asked that he allow the film to be further studied, but he felt that selling it to a television company would allow him to have better magnifications and slow mo done so that the footage could be better viewed. He sold the footage to the producers of a TV program many readers will be familiar with. So as not to steal their thunder, I will refrain from saying what program it is until the producers make their announcement. At that time I will gladly share the airdate and time with the readers of Cryptomundo.
I can fairly confidently say that readers will find this footage fascinating and I hope that the producers of the program the creatures will be seen in, will have used all their electronic tools to show clearly the remarkable animals that the Washington state boat skipper and his sons have captured.
If these are whales, moose, otters or other known creatures then they are subtypes that no one has ever seen before. I do not think that they are a known animal and I look forward to readers' comments after they have seen the footage."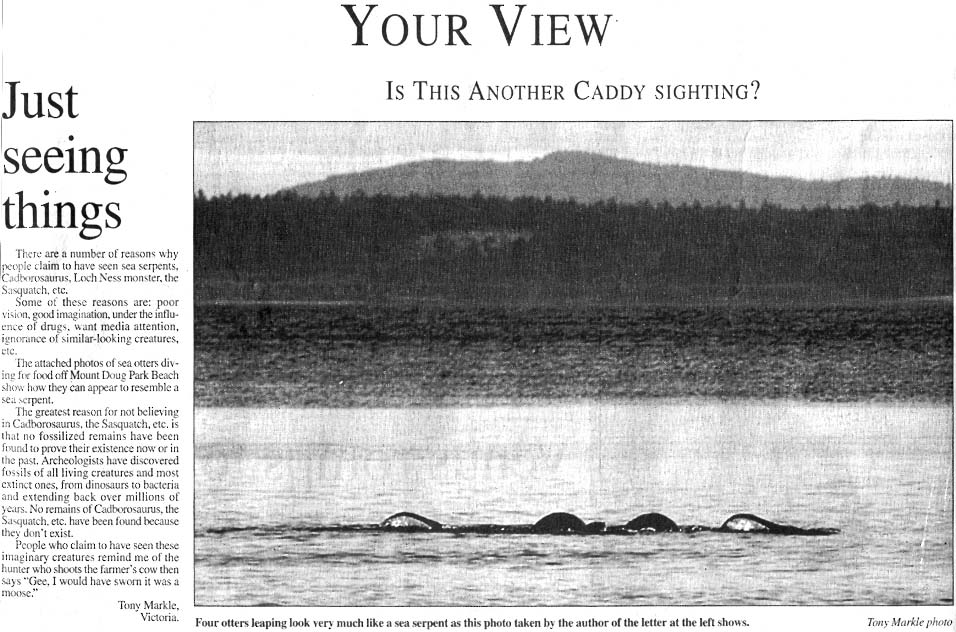 Kalo yang ga bisa bahasa inggris biar eke translate..
Intinya gini deh, video itu beneran asli, soalnya uda diliat ama si penulis diatas selama 3 jam pada mei taun lalu. Penulisnya uda ngejamin kalo itu bener-bener hewan yang belum diketahui. Video itu secara garis besar gini:
Seorang pria (namanya ga dikasih tau) lagi mancing di alaska pas musim panas, dia dan 2 anaknya lagi di dek waktu ngeliat rombongan cadborosaurus itu. Salah satu anaknya, langsung ngambil kamera terus ngerekam kejadian itu.
Menurutnya caddy yang difilmin ini mirip sama bangkai cadborosaurus di naden harbour taun 1937.
Pria pemancing ini bukan ilmuwan, mungkin ini yang nyebabin kenapa video ini ga dikasih ke peneliti dan malah dikasih ke stasiun TV, menurutnya kalo dikasih ke stasiun TV maka keuntungannya lebih gede.
Hmm.. Sebenernya sayang juga sih kalo dikasihin ke stasiun TV, jadi harus nunggu bulan depan. Tapi mau gimana lagi?
Kita tunggu aja deh videonya, bulan depan aku posting deh..